Skip to main content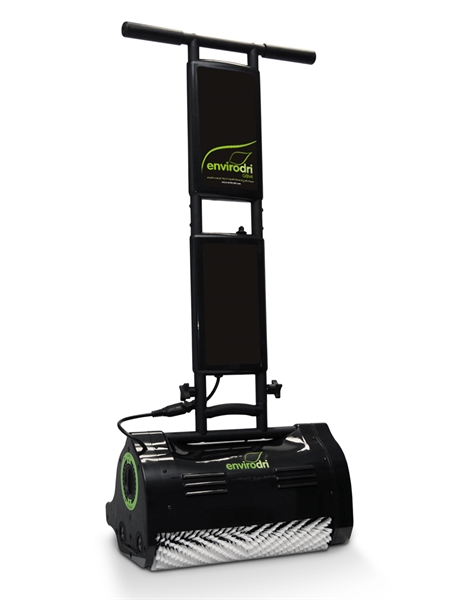 Envirodri GEN4 Dry Carpet Cleaning Machine
Product Code: E40-4-9002BK
The Envirodri system is one of the most efficient and environmentally responsible ways to clean all types of carpet without the use of water.

To be used in conjunction with Pro 40 Envirodri Microsponges, the Envirodri dry carpet cleaning machine is suitable for both spot and deep cleaning schedules and enables facilities to maintain their flooring without disruption to daily activities. 

The system cleans using 100% biodegradable, natural, soft, sponge-like particles which have been moistened with just the right amount of cleaning ingredients to dissolve and absorb dirt and grime from carpet fibres. The Envirodri GEN4 machine effortlessly glides over carpets, agitating the microsponges into the fibres whilst also acting as a pile lifter - cleaning whilst simultaneously restoring previously flat, crushed carpet. After use, simply vacuum to reveal clean, odour-free and dry carpeting.
Self-propelling, lightweight and easy to use
Water-free cleaning! Carpets can be walked on during and immediately after use
Suitable for both large and small spaces
Can be used for both spot and deep cleaning schedules
Detachable handle for transport and storage
180° handle movement allowing the operator to reach under objects
Restores crushed carpet pile
Low level maintenance. No tools or lengthy downtime
Excellent cost in use 
Environmentally friendly 
Various grade of brush stiffness available
Suitable for use on most carpet types from manmade to natural. Ideal for cleaning raised access flooring and in areas where low moisture is essential.
Envirodri GEN4 Machine Specifications (UK):
Electrical: 230V/240V
Nominal Power: 550W
Rated Amperage: 2.6 Amps
Brush Width: 40cm
Brush RPM: 550RPM
Wheels: 5cm non-marking black
Weight: 21Kg
Height with Handle: 112cm
Depth: 30cm
Power Cord: 10m 
Single machine sold with medium white standard brushes.
Leasing options also available. Contact us to find out more.

Other brushes of varying grade of stiffness are also available for very soft or hard carpet types.