Which carpet cleaning method is best?
There are many different methods to clean a carpet, from extraction cleaning and bonnet pads to, dry, encapsulation and steam methods. Adding to this the myriad of cleaning chemicals available it's fairly easy to be bamboozled by the claims and promises made by brands as to which carpet cleaning method is best.
In this article, we take a look at the different methods for cleaning carpet and attempt to cut through the jargon to help you understand which carpet cleaning system is best for your business.
When you start to research carpet cleaning, you'll find there are generally two options – wet carpet cleaning or very low moisture (VLM) carpet cleaning.  Both of which are aggressively argued for and both of which certainly have their place. Within these two pretty broad areas you'll find a number of different systems and options. These are the what we have identified as the seven main systems for carpet cleaning.
What are the different methods for cleaning carpet?
The seven main systems used for professional carpet cleaning are:
Dry Carpet Cleaning
Encapsulation
Bonnet Cleaning
Rotary Shampoo
Foam Cleaning
Hot Water Extraction (HWE)
Truck Mount Extraction
What is Dry Carpet Cleaning?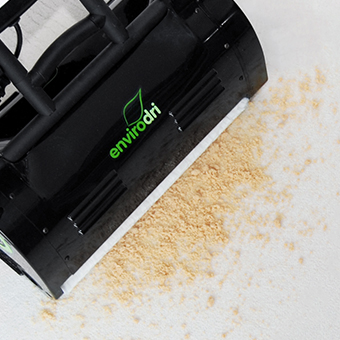 Dry Carpet Cleaning is a process that combines a counter-rotating brush machine (CRB) with a low to almost zero moisture carpet cleaning powder or compound. This process is not reliant on masses of water to clean carpet and instead uses the cleaning compound like a sponge to break down and absorb soiling. This is then vacuumed away leaving carpets ready for immediate use.
The dry carpet cleaning powder is typically made from a safe, bio-degradable compound which is carefully moistened with a balanced blend of cleaning ingredients chosen for their ability to dissolve and remove dirt. 
As a system that can clean carpets in under 30 minutes with no drying time this method of carpet cleaning is ideal for busy facilities and businesses that cannot afford to close down areas or restrict access. For example, in a hotel, where carpets need to be accessible 24 hours a day or function venues where room turnaround is tight.
Dry carpet cleaning is also the only method which is recommended when cleaning natural carpet fibres including wool, sisal, coir, grasses and jute. It is also suitable for use on raised access flooring, so offices where you find the power points in the floor.
Pros and Cons of Dry Carpet Cleaning
| | |
| --- | --- |
| PRO |  CON |
| Suitable for all carpet types | If not performed correctly this method may only work as a surface cleaner |
| Extremely low to zero drying time | If not vacuumed correctly, compound can remain in the carpet fibres. |
| Suits both deep cleaning and regular maintenance schedules |   |
| No risk of shrinkage, colour bleeding, wick-back or mildew |   |
| Does not leave any sticky residues |   |
| Restores crushed carpet pile |   |
| No requirement for extensive training – easy to use |   |
What is Encapsulation Carpet Cleaning?
This process uses a crystal polymer-based cleaner which is brushed through the carpet using a rotary brush machine or bonnet. As the solution dries it encapsulates loose soil which is then extracted by vacuuming.
The solution is designed to emulsify fats, oils and starches which normally bind soiling to carpet fibres, and once removed, the crystal technology reflects light to give carpets a much brighter and cleaner look.
Encapsulation carpet cleaning technology is often favoured over regular carpet cleaning shampoo products due to the fact it uses minimal amounts of water and allows carpets to be back in use quickly.  Plus, the agitation nature of this method helps to loosen soil for a better, more controlled clean.  However, encapsulation is deemed more of a maintenance clean (so a clean between deep cleans) and other processes such as HWE might be periodically required depending on the floor and its environment.
Pros and Cons of Encapsulation Carpet Cleaning
| | |
| --- | --- |
| PRO |  CON |
| Fast, effective results | Requires a high level of product training |
| No rinsing or drying required | Limited performance – unsuitable for heavy soiling |
| Does not leave behind dirt-attracting residues | Limited cleaning ability on grease and oily-based soils |
| Improves the appearance of carpet |   |
| Convenient solution with little to no drying time |   |
What is Bonnet Carpet Cleaning? 
Bonnet carpet cleaning is usually performed in commercial buildings as it mainly restores the appearance of carpet. An absorbent pad is immersed in a mixture of water and cleaning chemicals and spun across the carpet. The pad absorbs the surface dirt and therefore needs to be wrung out, rinsed and replaced frequently to prevent the spread of dirt. 
As a fairly quick, inexpensive process, bonnet cleaning is more suited to spot cleaning and temporary restorative work rather than an overall method or solution for scheduled carpet cleaning.
Pros and Cons of Bonnet Carpet Cleaning
| | |
| --- | --- |
| PRO |  CON |
| Restores the appearance of crushed carpet | Tends to spread and smear dirt if care is not taken |
| Covers large areas quickly | Can damage carpet fibres |
|   | Rapid re-soil rate |
|   | Leaves a heavy residue |
What is Rotary Shampoo Carpet Cleaning?

In rotary shampoo cleaning special detergents are applied to a carpet via buffer / rotary machine and solution tank. Once the shampoo has been scrubbed into the carpet vacuuming is needed to remove the soil. If the vacuum step is missed, there is actually very little soil that gets removed from a carpet. Similarly to bonnet carpet cleaning this is a fairly inexpensive option to clean large areas of carpets, it's the extraction of shampoo from carpets coupled with the frequent rinsing and replacement of bonnet pads which makes this process laborious.
Pros and Cons of Rotary Shampoo Carpet Cleaning
| | |
| --- | --- |
| PRO |  CON |
| Detergents can contain optical brighteners to make carpet appear clean | Little removal of soil if vacuuming is not performed correctly |
| Heavily fragranced shampoos leave rooms smelling fresh for longer | Can result in texture distortion |
|   | Shampoo and soil can remain in carpet fibres |
|   | Drying times can be long |
|   | Risk of shrinkage, mildew and wicking if not performed correctly |
What is Foam Carpet Cleaning?
This method of carpet cleaning consists of a thick dry foam being applied directly to the carpet. This foam is an aerated detergent which loosens and suspends soiling and is brushed into the carpet pile using a mechanical cylindrical rotating brush. Once soils have been lifted the machine, or separate wet vacuum, then extract the foam and soil from carpets.
There are many varieties of foam detergent including products with 'odour encapsulation' and others which dry to non-sticky powder which is vacuumed away so the choice is quite wide when it comes to what option best suits your requirements.   
Pros and Cons of Foam Carpet Cleaning
| | |
| --- | --- |
| PRO |  CON |
| Detergents can contain optical brighteners to make carpet appear clean | Can leave a heavy residue if not vacuumed correctly |
| Some foams dry to a non-sticky powder for easy removal | Risk of colour bleeding and wicking if not carried out by trained personnel. |
What is Hot Water Extraction (HWE) Carpet Cleaning? 
Professional services use this method for a very deep clean. This process combines pressure washing with a wet vacuum pick-up where a machine will spray a solution of water and detergents under a varying pressure directly into a carpet. A vacuum follows behind the spray using suction to extract dissolved soil, detergent and water from the carpet.
There are a wide variety of machines on the market for this process from portable
machines to larger units all which contain separate tanks for the solution and the dirt which is vacuumed up. This method is preferred for commercial settings and carpets which need a very deep clean however this process requires a greater skill level to operate the machine and avoid using too much water.
Pros and Cons of Hot Water Extraction
| | |
| --- | --- |
| PRO |  CON |
| Removes as much soiling as possible | This method is unsuitable if time isnt on your side – drying times can be up to 24 hours |
| Leaves carpets looking fresh and new | Depending on the operator dirty solution may remain in the carpet |
| Offers a very deep cleanse which is good for renovations and restorations | Uses a large amount of water |
| Cleans more stubborn stains easily | Risk of shrinkage, mildew, damp and mould if not performed correctly |
|   | Wickback is likely to occur if not extracted correctly |
What is Truck Mount Extraction Carpet Cleaning?
Truck mount extraction is essentially a larger version of hot water / wet extraction carpet cleaning. The mechanical element is in a vehicle such as lorry whilst hoses are pulled into the buildings to be cleaned. This more 'heavy duty' approach allows for higher pressures and temperatures.
Again, this method is preferred for commercial settings and carpets which need a very deep clean however this process requires an extremely high level of skill and experience to operate the machinery correctly and avoid using too much water or risking damage to carpets.
Pros and Cons of Truck Mount Hot Water Extraction
| | |
| --- | --- |
| PRO |  CON |
| Keeps noise and airborne contaminants outside the building. | Waste pump-out of dirty water and recovered detergents is emptied into drains which may affect aquatic life and environment depending on chemicals used. |
| Ideal for excessively dirty carpets and commercial settings | Runs on petrol or diesel – expensive and not particularly environmentally friendly |
| Variable heat and pressure control | Noisy when in operation |
| Multiple jet wands can be linked to a single unit to speed up the process with more operators | Lengthy drying times and risk of damage to carpets. |
| Does not require use of customers power to operate | Risk of shrinkage, mildew, damp and mould if not performed correctly |
With many different methods and options available to clean your carpets the main questions and points lay with the customer and the carpet. How you choose to clean a carpet depends on the type of carpet to be cleaned (is it natural or synthetic, is it suitable for wet cleaning) where is the carpet (a busy lobby with 24/7 access, hotel room or rarely used office) and also, what is the environment like (Is it light and airy with windows you can open or in a poorly lit area with poor ventilation.)
We hope this guide helps when looking for carpet cleaning systems and if you have any questions in terms of which system would best suit your facility please contact us and we will be happy to help.
About the Envirodri System
Founded in 1996 we began our journey supplying the envirodri dry carpet cleaning system to a number of hotels and businesses. Through doing this we were able to learn, first-hand, about the varied and complex cleaning issues businesses were faced with on a daily basis and the fact that the products they were using were simply not up to the task.
By working alongside our customers, we were able to develop our dry carpet cleaning system and associated products to provide a method which not only delivered superior results, but also worked across all carpet types without any downtime or disruption to daily activities.
Today, we are considered the destination for dry carpet cleaning technology, providing a suite of innovative equipment and products with first class training and support to compliment. This ensures our customers get the most from our products and are able to clean and maintain carpeting whatever their industry.
Envirodri Dry Carpet Cleaning
Envirodri is the leading name in carpet cleaning technology. Designed using dry cleaning techniques, the envirodri dry carpet cleaning system is one of the most efficient, cost-effective and environmentally responsible ways to clean all types of carpet.
From spot to deep cleaning, daily maintenance to scheduled restoration, the CleanSeal and Woolsafe approved Envirodri dry carpet cleaning system cleans all carpet types without the use of water, eliminating downtime and risk of damage.
Used by facilities throughout the world, Envirodri provides carpet cleaners with the solution for zero drying time with long lasting, professional results.
For more information or to buy, please contact us