Our sanitiser and disinfectant range gets a new look for 2021
Initially, due to nationwide shortages of hand sanitisers at the start of the Coronavirus pandemic, we wanted to act swiftly to develop and quickly bring to market a hand sanitiser which was not limited by the then alcohol and supply-chain shortages. Developed in order to offer the highest levels of protection against bacteria and viruses but also prevent dryness and irritation our  Alcohol-Free Foaming Hand Sanitiser  is now one of our best-selling products and sold throughout the country to the hospitality sector, schools, colleges, universities, offices and the healthcare industry.
Since its launch in 2020 our foaming hand sanitiser has undergone rigorous independent testing and gained additional British Standard (BSEN) certifications which include:

BS EN 1500: Hygienic Hand Rub

BS EN 14476: Virucidal (Medical)

BS EN 1276: Bactericidal
BS EN 13727: Bactericidal (Medical)

BS EN 13624: Yeasticidal (Medical)
It is also laboratory proven to kill  99.99%   of harmful bacteria, yeasts and enveloped viruses on the skin. The new look, which puts the product features at the forefront is designed to be less intrusive when displayed at kiosks, in offices and throughout the hospitality sector where businesses do not want distraction from their own brand.
Alongside the new look we've also seen our private label foaming hand sanitiser under our own label  range really start to take off. This option has been hugely popular in the hospitality and healthcare sectors allowing businesses to promote their brand in a socially positive way.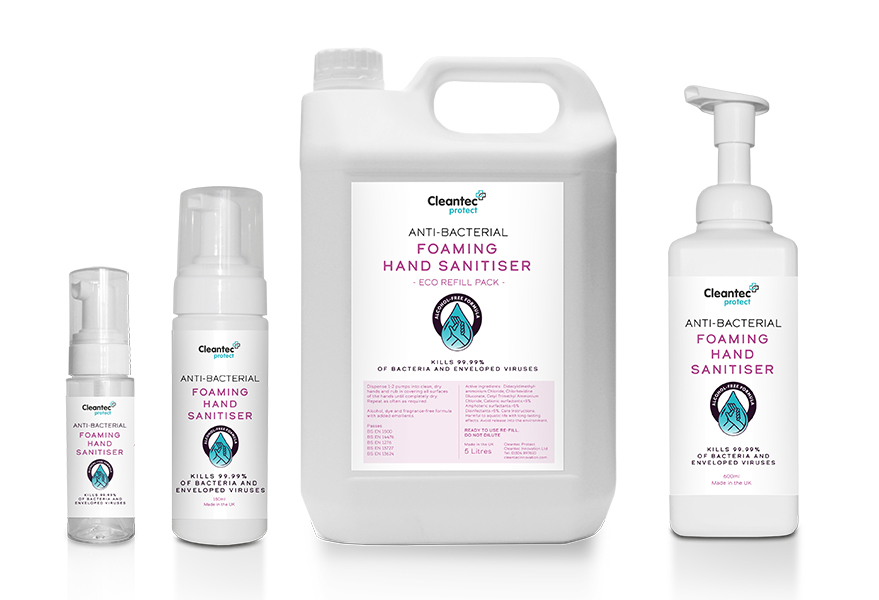 Also with a new look is our widely popular  Anti-Bacterial Multi-Surface Sanitiser. This product, formally known as PRO3, has been in the Cleantec range for a number of years however with demand for sanitisers now higher than ever we've amped up the formulation and had the product independently tested to gain proven bactericidal and virucidal certifications on the product. Capable of killing  99.99%   of harmful bacteria and enveloped viruses our multi-surface sanitiser passes:
BS EN 1276: Bactericidal
BS EN 13727: Bactericidal (Medical)
BS EN 14476: Virucidal (Medical)
The active ingredients in this multi-purpose product have a broad antimicrobial efficacy working to eliminate gram-positive and gram-negative bacteria and enveloped viruses on virtually any hard surface, whether indoors or outdoors and can also be used in conjunction with most commercial ULV fogging machines.