Skip to main content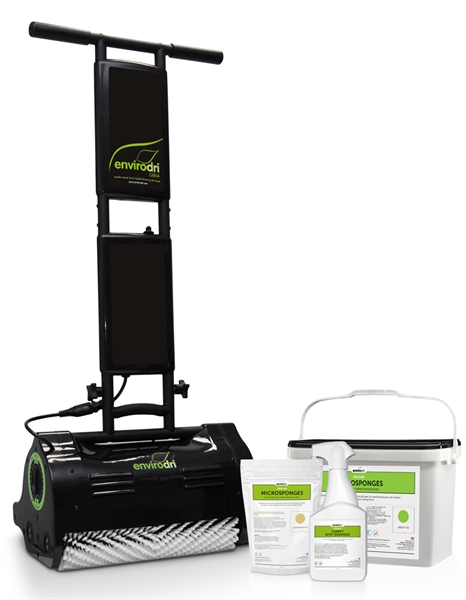 The Complete Envirodri Dry Carpet Cleaning System
Product Code: Envirodri
Dry carpet cleaning is one of the most efficient ways to clean all types of carpet without the use of water. The Envirodri Dry Carpet Cleaning system is simple, reliable, environmentally responsible and above all economical, where the products do the hard work for you, reducing labour, downtime and waste.
How The Envirodri GEN4 Dry Carpet Cleaning Machine Works
The Envirodri system uses a cleaning powder (Pro 40 Envirodri Microsponges), which is slightly moistened with just the right amount of detergent and wetting agents which is sprinkled over a carpet. The GEN4 CRB (counter-rotating brush) dry carpet cleaning machine is then used to agitate the granules deep into the carpet pile, which get straight to work to absorb dirt and deodorise the floor. Once complete, these granules are then vacuumed away leaving behind a dry, clean carpet, ready for immediate use.
Benefits of the Envirodri Dry Carpet Cleaning System
Waterless cleaning = zero downtime. Carpets can be in use during and immediately after cleaning
Suitable for use on all carpet types including wool, sisal and coir
The products within the system have been independently tested and approved by Woolsafe
Suitable for both spot or deep cleaning in large or small areas
Dry Carpet Cleaning Machine acts a pile lifter to restore crushed carpets
No risk of damage. The system is waterless so eliminates the risk of damp, colour running, shrinkage, expansion, mildew and damp odours
Uses an environmentally responsible, non-toxic and safe 100% biodegradable cleaning compound
Suitable for cleaning on raised access flooring
The innovative Envirodri Dry Carpet Cleaning System comprises: 
Envirodri GEN4 Dry Carpet Cleaning Machine
The GEN4 dry carpet cleaning machine is to be used in conjunction with Pro 40 Envirodri Microsponges. This ergonomically designed CRB machine effortlessly glides over carpets, agitating the microsponges into the fibres cleaning whilst simultaneously restoring previously flat, crushed carpet.

Pro 7 Envirodri Biological Carpet & Upholstery Cleaner
This environmentally responsible, active cleaning solution cuts through grease, grime and odours on both carpets and upholstery.

Pro 40 Envirodri Microsponges
Suitable for all carpet types, this woolsafe approved dry carpet cleaning compound dissolves and absorbs both oil and water based dirt whilst simultaneously eliminating malodours.

Pro 41 Envirodri Spot Remover
Our spot remover has been designed to remove the toughest spots, spills and staining from all carpet types. With instant results, it leaves no residues ensuring carpets stay cleaner for longer.

Pro 43 Envirodri Pre-Cleaner
Our innovative pre-cleaner has been formulated as an effective pre-treatment for use on heavily soiled carpets. It contains soil suspension agents to loosen stubborn, ground-in dirt for easy removal. 

Lindhaus 380e Dynamic Vacuum Cleaner
The only professional standard vacuum we recommend for an exceptional, professional finish across all carpet types.
Please use the contact sales button to find out about our latest prices and special offers, leasing options or to book a free, no obligation demonstration on your premises. We also offer the option of mixing and matching products so we can tailor a dry carpet cleaning system that works perfectly within your business and cleaning schedules.